Being an expert in garage door repair requires a great amount of work in terms of training, getting updated with new products and keeping up with current demands. Dealing with coil springs is one of the most demanding tasks, since their tension can be dangerous or cause damage to one's property. Consequently, our performance as repair specialists must not only be excellent in technical terms, but also careful. The good news is that all technicians at "Garage Door Repair Banning" are aware of these requirements and take the right precautions when they are called to fix garage spring issues.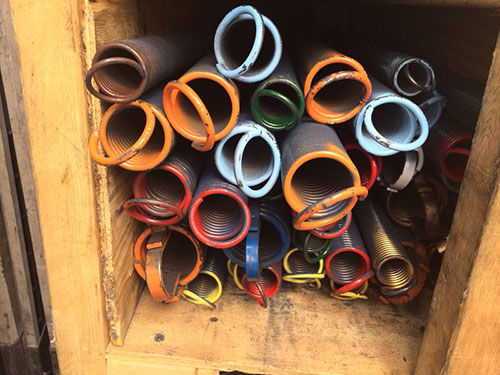 Being cautious is one very important matter. Due to their high energy, garage door springs can cause terrible injuries and that's why our professionals always wear gloves and safety glasses. After all, all these mechanical parts might have sharp edges and burrs that could inflict injuries. Coming face to face with coil springs is not wise either. We do have the knowledge of the dangers and are also aware of how to stand close to springs in order to repair and replace them but not in their way.
Coil springs used to open and close garage doors are incredibly powerful. The size of their coil will be determined by the external force, which they are called to pull. In this case, the force is the weight of the door and the overhead door springs are required to either extend and contract or torque in order to balance and lift this heavy weight. In this effort, their coils will either release their stored energy when they are contracted or twist with force and create a tight spiral in order to carry out their mission. If the cable pulling the door or the spring itself snaps during this effort, the results might be tragic.
Expert teams for all coil spring services
Having excellent skills and long experience is definitely needed when springs require repair and replacement. You can be sure that the technicians of our company know exactly how each spring system works and can be of huge assistance in times of emergency or when you just need regular spring maintenance and adjustment. A big part of our training was devoted to torsion and extension garage door springs. We know how to assembly them and how to fix them and how their coils react under pressure and how they would react if the material is worn or poorly maintained.
We definitely know how to maintain and lubricate springs, as well as how to install them and ensure they work properly. We know their peculiarities and how to handle coil springs, which can compress, or commercial ones with large inside diameter. Regardless of their size or the weight of the door, springs are important parts of every garage system, but they can also be a threat. You need good professionals to take care of problems, but also prevent them and you can rely on our experts for their great skills. Contact us anytime!